MUSIC PROJECTS FOR ANIMALS
SHELTER ME
The purpose of our CD's 'Shelter Me' 'Music United For Animals' and 'Faith Hope & Sanctuary' is to raise awareness of the plight of defenceless animals and raise funds for rescue organisations world wide.

We achieved this from 2006 to 2013 when the CD's were sent all over the world to rescue organisations who then sold them to their supporters and the money raised bought their animals food, emergency boarding and in some cases lifesaving operations.

During that time we covered the cost of shipping ourselves but times are much harder now and sadly we are unable to expand on this project without a sponsor.

We continue to donate to rescue whenever possible and offer the CD's as fundraisers for special events. We have also set up a songwriting service 'My Song in a Million' which we hope in time enables us to continue manufacturing CD's for the benefit of animals in need.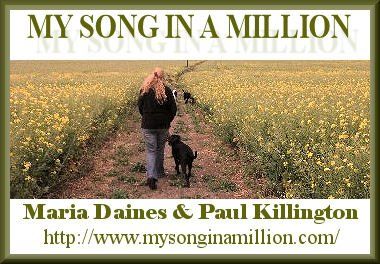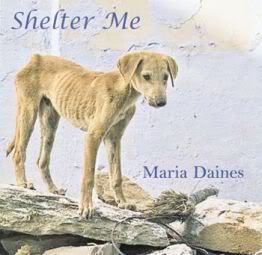 *Introduction*

This collection of songs, released to help homeless and neglected animals, is dedicated to the memory of precious Regina. Regina was a nervous homeless dog who had been taken in by kind volunteers at a shelter in Spain. Sadly one night the shelter was vandalised and Regina was too petrified to run away. She was tortured to death. Regina deserves justice and all animals in shelters should be safe and far from harm.

We would like this CD to represent a global effort of care and compassion towards those defenceless dogs, who, through no fault of their own, find themselves abandoned and at the mercy of human kind, for better or for worse.

Some songs on this CD are inspired by case histories of cruelty, others are memorial tributes to pets passed over the rainbow bridge and some were written to highlight the suffering of man's best friend.


Our grateful thanks to Dey Alexander for the use of her photograph of a small hungry pup in India.

Dey graciously gave us permission to use this image for the Shelter Me CD cover and we do not think any other photograph could have depicted the theme of this collection of songs more poignantly.

It says so much in just one glance...

To visit our CD web store please click here -

STORE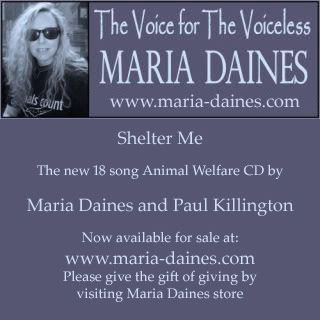 Dear all,

we are thrilled to announce the release of our CD for animal rescue, Shelter Me.

Shelter Me is a collection of 18 songs for and about dogs. Each song speaks up loud and proud for man's best friend, inspired by case histories of cruelty, memorials to beloved pets passed over the Rainbow Bridge and other songs highlighting the need for compassion towards homeless animals in our society today.

Thank you to everyone who participated world wide in the 'Peace Wins The Election' 'Giving The Gift of Giving' initiative which enabled the release of these songs in a CD collection of music for a cause.

Details of the online campaign to release this CD can be found in the notes on the Peace Wins The Election video, here -





PEACE WINS THE ELECTION ON YOUTUBE


Your support is literally a lifeline to the animals that depend on human beings to help them stay alive. When the CD's arrive at small shelters they will be used by volunteers to raise funds. The CD's are sent free of charge and rescue organisations sell them and keep the funds to feed and care for their animals.



Shelter Me is all about happy endings :)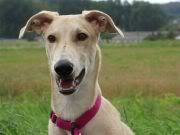 Pipote, the little dog above, was rescued by Far From Fear in Germany. Pipote had to undergo an emergency operation because his leg had been severed in a dreadful act of cruelty. We were able to help fund the medical treatment Pipote needed through sales of our CD's. This is how we can help rescue organisations and all online sales are generated into donations to rescue shelters or to fund postage to get the CD's to where they are needed most.







Thank you to everyone who has helped us to realise a very special dream to make a difference through music and especially to our friends at Keep The Green Alive for their tremendous, dedicated support every step of the way with project Shelter Me.

We could not have done this without YOU!!






KEEP THE GREEN ALIVE ON YOUTUBE

More thank you's!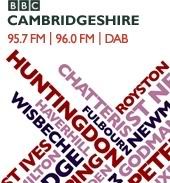 To the wonderful Sue Marchant of BBC Radio Cambridgeshire for showcasing songs from Shelter Me on her show in May 2009, a few days after the CD was released.



TO LISTEN TO THE SHOW CLICK HERE

And thank you to our friends across the pond at The Pet Show in USA. Pet Expert and radio presenter Warren Eckstein is playing songs from Shelter Me on his popular show and we appreciate such fantastic support and would like to say hello to all the animal friendly listeners in America, you ROCK!!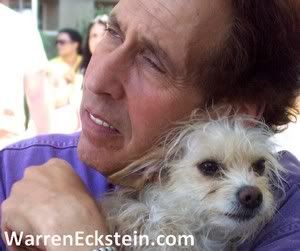 Daines/Killington songs are published in the UK by NorthStar Music and we would like to say a very special thanks to staff at NorthStar for enabling us to release our music professionally and for giving us support and artistic freedom to create music for the voiceless. We consider ourselves very lucky to be in such good hands.







The Shelter Me CD Project has supported the following rescue organisations and causes. We continue to offer the CD's for special auction events (too many to list) where funds are needed urgently to save dogs on death row -


Kindred Spirits Greyhound Adoption, Inc, USA
www.KindredSpiritsGreyhoundAdoption.com

Far From Fear, Germany
www.far-from-fear.de/

The Alternative Animal Sanctuary, UK
www.alternativesanctuary.co.uk/

Norfolk and Suffolk Animal Trust
www.nasatrust.co.uk

The Greyhound Sanctuary Devon
www.thegreyhoundsanctuary.org/

Galgo Rescue International Network
www.galgorescue.org/

Border Collie Rescue, UK
www.bordercollierescue.org

Keeshond Lovers United, USA
www.keeshondlovers.com

Pit Bull Rescue Central, USA
(CD's sent for Annual Poppymart event)
www.pbrc.net/

Hooves & Paws Rescue, Inc, USA
(A donation sent for Frannie the Rottie)
www.hoovespaws.org/

Mutts in Distress, UK
(CD's donated for German Shepherd/Mutts in Distress Fund Raising Day)
www.mutts-in-distress.org.uk/

Hereford and Worcester Animal Rescue, UK
www.hwanimalrescue.org/

Forest Dog Rescue, UK
www.forestdogrescue.org.uk/

Greek Animal Rescue, UK
www.greekanimalrescue.com/

CARE Feline TNR, USA
www.carefelinetnr.org/

Paws4Ever, USA
CD's sent for Howl-O-Ween Fund Raising Event
www.animalprotectionsociety.org/

Spirit Acres Equine Rescue and Sanctuary, USA
http://spiritacres.org/

Donation sent for Sylva's rescue pup Fiona, USA
(Information sent via Kathie-Sullivan Parkes)

Remus Sanctuary, UK
(CD's taken direct to sanctuary by Brenda, thank you Brenda!)
www.remussanctuary.org/

Animals Count, UK
www.animalscount.org

Greyhounds In Need, Netherlands
www.greyhoundsinnood.com/

The Bright Eyes Society
(Donation sent)
www.brighteyes.dk/

Doris Banham Sanctuary, UK
www.dogsos.co.uk/

Go Vegan Radio
- a project of 501c3 International Humanities Center
(Donation sent)
http://goveganradio.com/

Stokes County Humane Society, USA
(Donation sent for Bear, German Shepherd dog)

Stephanie's Animal Rescue, USA
www.stephaniesanimalrescue.com

East Galway Animal Rescue
www.egar.org/

Dorset Animal Workers Group, UK
http://sithean.com/dawgdogs/

Dogs Trust
www.dogstrust.org.uk/

Nowzad Dogs
www.nowzaddogs.co.uk/

SOFA CLUB, UK
www.speaking-out-for-animals.co.uk/

Caroline, (Pound dog rescuer), UK
(Donation sent for Izzy, Belle & Shepherd mix)

Greyhounds Galore, UK
www.greyhoundsgalore.org.uk/

Tower Hill Stables, UK
www.towerhillstables.com/

Rochdale Dog Rescue, UK
www.rochdale-dog-rescue.com

Misunderstood Pit Bull Rescue, USA
www.misunderstoodpitbullrescue.org/

Once Loved Rescue, UK
(Donation sent for brindle staffie)
http://oncelovedrescue.org.uk/

The Horse Refuge, UK
www.thehorserefuge.org/

The Brandy and Karma appeal
(Donation sent for their care)
http://dangerousdogsact.blogspot.com/

Avril's animal rescue appeals for Hope, Whisky, Soda and Minstrel
(Donation & cds sent for fund raising)

Hull Animal Welfare Trust
www.hullanimalwelfare.com

B.U.D.D.I.E.S. RESCUE, USA
(donation sent)
http://www.buddiesrescue.org/

Dogs for the Disabled, UK
(Donation sent for Heather's sky dive)

Animal Protection of New Mexico
(CD's sent for annual event)
http://www.apnm.org/

South Coast Staffie Rescue
(Donation sent for Charlie)
http://southcoaststaffierescue.org.uk/

Bullies in Need
(Donation sent for Karen's poundie & CD's sent for fundraising)
http://www.bulliesinneed.org.uk/

Wood Green Animal Shelter, Cambridgeshire
(CD's kindly delivered in person by my brother David)
http://www.woodgreen.org.uk/

Greyhound Rescue Stall
(Haverhill Market, Suffolk, UK)

Dogs Trust, UK (Shoreham Centre)
(Copies handed in person at Pup Aid, Brighton)
http://www.dogstrust.org.uk

Hillside Animal Sanctuary
http://www.hillside.org.uk/acatalog/videos.html

Save The Dogs
http://www.savethedogs.eu

DDA Watch
http://www.ddawatch.co.uk

Northamptonshire Animals Needing Nurturing & Adoption
(CD's sent to NANNA for fund raising event)
http://nannaanimalrescue.co.uk/

Skiathos Cat Welfare Society
(CD's sent for fundraising event)
http://skiathos-cats.org/

Greyhound Compassion
www.greyhoundcompassion.com/

Birch Hill Dog Rescue, UK
www.birchhilldogrescue.org.uk/

Scooby Medina Animal Rescue, Spain
http://www.scoobymedina.org/

Meriden Humane Society, USA
www.meridenhs.petfinder.com/

All Dogs Matter, UK
www.alldogsmatter.co.uk/

Crostwick Kennels Rescue & Rehoming, UK
www.crostwickboardingkennels.co.uk/

The Blue Greyhound, UK
http://www.bluegreyhound.org.uk/

TARO - Turkish Animal Rescue Organisation
http://turkishanimalrescueorganisation.webs.com/
Sponsorship of lovely Samur



As a gesture of support CD's have been sent to the following advocates, rescuer's & friends -


Bark Radio, USA
Justice For Karley, USA
South West Animal Protection, UK
Galgo News, France
Justice For Tyson Campaign, USA
Warren Eckstein, The Pet Show, USA
Rich Russom, USA
Turkish Voice For Animals (Neesan) UK
Steve (Staffy rescue fund raiser) UK
Paola, OIPA, Italy
Irish, USA
Millie, USA
Kathy, Belgium
Pinedog, USA
Kathy, USA
Ariel, USA
Bonnie (Equine Rescue) USA
Trudy, UK
Linda (Andro), USA
Anne, UK
Anita, USA
Larisa (Galgo supporter) Slovenia
Paul, UK
Renate Ortel, Radio Guiniguada, Gran Canaria
Rainbow Ark Animal Sanctuary, UK
Sandy, USA
Total Oblivion Radio, UK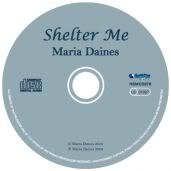 BBC Radio Cambridge 2009, What Shelter Me is doing -




Announcement slide show -




A MEMORIAL PAGE FOR REGINA





Letters of support for Shelter Me, thank you all xx


Dear Maria & Paul,

Remus were so delighted with your CDs.
I know 3 were sold while we were there and one of the women on a stall said she was going to a dog's activity day soon and would take some to sell there too! So you were successful today and raised at least £21.50 for Remus!

Love from Brenda


Dear Maria,

This morning I have received your new CD ; thank you so much my friend XX !!

The music is so beautiful Maria, these songs go straight through the soul !

My son, my husband and I, we all admire you and Paul for your wonderful music and for all you do for the animals.

Please know that I am very honored to have received this beautiful CD for the animals as a gift, and that I'm very happy with it,
Thank you very , very much XXX !!!

May you always be blessed, dear Maria, for your work for the animals & for everything.

Sincerely,
Love, Marie xx


Dear Maria and Paul,

Just to say I have listened to your cd while going to work and I am so humbled, your music is incredible and Paul is so marvellous on the guitar, your songs moved me to tears, thank you dear angels for all the work you do for the animals xxxxxxxxx

Helen



Oh, my gosh, thank you, Maria!!! Shelter Me sounds like it was recorded in a cathedral with a chorus of angels!!! Once again, your poetry captures the plight of the innocents. I will find a way to play it at our adoption events. Rescue work does have a quality of holiness to it...I feel these animals are the closest we will come to meeting angels on an earthly plane. Thank you for being their voice. I feel so blessed to know you.

Janice xoxox



Hi Sue...Tuning in to your broadcast today to enjoy another great interview and music with Maria & Paul. They have developed a huge internet following here in the states, initially from their great music and more recently from their unrelenting efforts on behalf of animal welfare. Hats off to you for being supportive of them and their noble cause. They are fast becoming legendary on the Internet. They have earned the trust, respect, and admiration of many musicians and animal rescue organizations worldwide. The new "Shelter Me" CD is one more chapter in their book of "How to Make the World a Better Place".

Best Wishes to All.....Pinedog in New York




Dear Maria,

It really is most kind of you to send us some CDs! We will definitely make very good use of them. It would be lovely if we could keep some in our school library and use some for fund raising. We recently did our
annual sponsored dog walk and the money we raise will go to our local sanctuaries. It is always a lovely occasion with lots of pupils, parents, grandparents, friends - not to mention the dogs!

Sue, SOFA Campaign


Dear Maria & Paul,

What a tremendous gesture -- I know everyone appreciates the depth of your commitment to the animals.
Warren is loving the CD!! Our office favorites next to "Karley," of course, are "Heart & Soul" & "Dog Walker."


Many thanks,
Denise for Warren Eckstein


Hello Maria,

Thank you very much for the CDs, they arrived yesterday. This is very kind of you. It's good timing because next weekend is our biggest fundraiser of the year, so we'll have them on sale there. Thanks.

Lucinda


Lady, you are truly a gift. You have an astounding ability to carry your message through your music without it sounding corny. It is very touching and thought provoking and I can no longer turn my head away from what I suspect is abuse any more because your music has enlightened me. Thank you for the awareness, thank you for caring so much and making a difference in these lucky animals lives. And most of all, thank you for being my friend on MYSPACE. I am a humble newspaper carrier, but I greet dogs at so many houses. When I first started, so many of them approached me with bared teeth and hackles up. Now they greet me with wagging tails and barks of joy because along with the newspaper, I take the time to toss them a treat and pat their heads. It could be all the attention they receive in a day for all I know. It warms my heart to see them happy. Keep up the beautiful music and the messages that need to be heard. And please tell me where I can purchase your CD's as I live in the US, in Cashmere in Washington state.
Blessings to you, I love your sound

Sherry


Thank You so very much for your kind words. I suffer from Multiple
Sclerosis and the animals are why I get up and keep moving everyday. I
brought a 5 week old pit puppy into rescue 14 weeks ago and decided to
keep her and train her to be a service dog for me. Here in Michigan they
are really pushing BSL and it makes me so angry and we fight daily to
try to stop this senseless law. So I am very appreciative of your kind
donation of CD's as this will really help us. I have listened to some of
your songs and you sing them with such heart it makes me happy to know
that there are others that feel so strongly about the breed. It feels
some day's as though I am fighting a losing battle but I know I am not,
I have to keep being the voice that these babies can't have. I will do
this till I can not do it anymore!


Michelle








A VERY SPECIAL THANK YOU FROM PAUL. D. RICHMOND, AKA ZEST -


Dear Maria and Paul,

Congratulations on making yours, many people and animals' dreams come true.

Some time ago, you asked whay we wanted to help you with this endeavour. I am supplying my original letter I wrote to you about this venture and cause back in December.

I think this will double indemnify the reasons we cared to help....really...it all comes down to your caring to bring comfort and peace to those in need through your voice and music.

Stay well, and THANK YOU for all you have done for us over the years too!

Peace,

Paul / Zest :)

December 6, 2008

Dear friends,

This letter pertains to the activity of the collaborative effort of Maria Daines, Paul Killington, and the team of, Keep The Green Alive.

By encouraging community involvement for the benefit of not-for-profit animal shelters through the release of Maria and Paul's new CD, Shelter Me, the team of Keep The Green Alive wanted to help.

Maria Daines released a blog at My Space on October 14 2008 that was an update of the projects she and Paul were working on. One of the projects, Maria describes as thus;

"The next animal cd is ready to roll, it will be dedicated to precious Regina and is a collection of songs for dogs. We would love to get it pressed for Christmas and I've got my thinking cap on for ways to raise money to do that. The dog cd will be part of the same project as MUFA and given free of charge to rescue shelters. All proceeds from sales will be regenerated to help with postage costs and assist us in continuing to supply cd's to those that need help. A way forward could possibly be auctioning Paul and I to play some special live performances in people's homes."

In Maria's plight to continue to aid those less fortunate via donating CD's as a means of income generation for the animal shelters is a generous and heartfelt commitment.

As some of you are aware, Maria and Paul write music regarding all types of issues and concerns that we may not have known about before. For instance, did you know that Maria and Paul have supported other causes via ventures such as this beyond the scope of animal welfare? If not, I would encourage you to read their bio.

http://www.maria-daines.com/bio.html

One song in particular that Maria and Paul wrote and recorded was, Peace Wins The Election back in November 2005. Here's Maria's explanation as to why the song was recorded in one take.

"Pro peace, pro planet, pro humanity song, or wishful thinking...Inspired by the Greg Allen interview."

"Recorded live with one guitar overdub, inspired by the global issue of the earth's need for renewable energy, discussed by Paul Richmond (Zest) in an interview with Greg Allen, I guess when you really start thinking about the world it's like ripples on a pond and war and destruction of any kind goes hand in hand with ripping up rainforests to make more junk mail".

At the time that Maria and Paul recorded and released their song, Peace Wins The Election, the Greg Allen Interview had only been available for public listening for approximately one and a half months since it's official release on the world wide web, October 1st 2005. It has been over 3 years since Peace Wins The Election's release. And, all the while, Maria allowed the team to utilize the song to advance the promotion of the interview. And, Maria gave the song away freely to any one that wanted to have their own copy. And still to this day, Maria and Paul offer their song, Peace Wins The Election as a free download here;

http://www.maria-daines.com/music-5.html

There have been many opportunities to advance the message of the Greg Allen Interview via promoting Peace Wins The Election, not only by ourselves, but by Maria and others also. A quick Google search reveals all. Please copy and paste including quotation marks, and please paste into your web search engine.

"Peace Wins The Election" "Maria Daines"

I believe that you will notice a rich history past and present of the exposure that Peace Wins The Election has garnered the world over as you scroll through the pages of results.

So, in essence, what exists between Maria, Paul and the team of Keep The Green Alive, is a symbiotic relationship which exhibits the interconnectivity between caring for the planet, caring for animals and caring for each other. It's obvious that the support we can give to each other, also spreads to many people and communities and hopefully makes a positive impact via peaceful and artistic means.

The idea behind bringing community participation to the release of the video, Peace Wins The Election, and having the team of Keep The Green Alive donate funds on participants behalf, goes right back to the basic element of understanding. Understanding that there are those less fortunate than ourselves whom require a venue to express themselves, and their willingness to at least want to become involved and support a worthwhile cause. As Maria was inspired to write the song, Peace Wins The Election, we are also inspired. We are inspired by the tireless and generous efforts of Maria and Paul. Their efforts insure that not only can we be informed, but, we can also be participant in the advancement of compassion.

I suppose that if anyone required a reason to want to help others, then our reason is that we understand beyond a shadow of a doubt that Maria and Paul's efforts save lives !!!! And, if that's not reason enough to want to help, then I really don't know what else is.

Once again, the old adage stands true, "Inspiration begets inspiration"

Thank you for reading this letter. I hope you found it to be forthright and rewarding.

Peace,

Paul Richmond, Greg Allen, and the team of, KEEP THE GREEN ALIVE !!!!

www.myspace.com/keep_the_green_alive